A05 and GEX7 – two new motor types
Eviro vibration motors have proofed of value in different application worldwide since many years. That's why they are used by many national and international producers of different plants and by other customers. All of them appreciate the quality of the eviro vibration motors.

To provide to our customers a more comprehensive offer of vibration motors we provide from now two new types of motors.

The new series with the identifications A05 and GEX7 could not be more different and add our range of products to smaller and bigger motors.

The vibration motors A05 are suitable for applications with small and compact dimensions and low centrifugal forces. Applications are for example to fill, to transport, to separate, to filter and to compact different materials. They are deliverable as single phase and three phase motors. The engine speed is 3000 rpm, the centrifugal force up to 0.44 kN and the working torque up to 0.88 kgcm. The centrifugal force generated by the vibration motors can be adjusted in discrete steps by changing the position of the unbalanced discs on the rotor shaft. The aluminium housing includes three different bore hole patterns. The connection cable with a length of 1.5 m is already mounted.


type
working torque
( kgcm )
centrifugal force
( kN )
max. speed
(min-1 )
rated voltage
( V )
rated frequency
( Hz )
 A05-0,9-2 1ph
0,88
0,44
3000
230
50
 A05-0,9-2 3ph
0,88
0,44
3000
400
50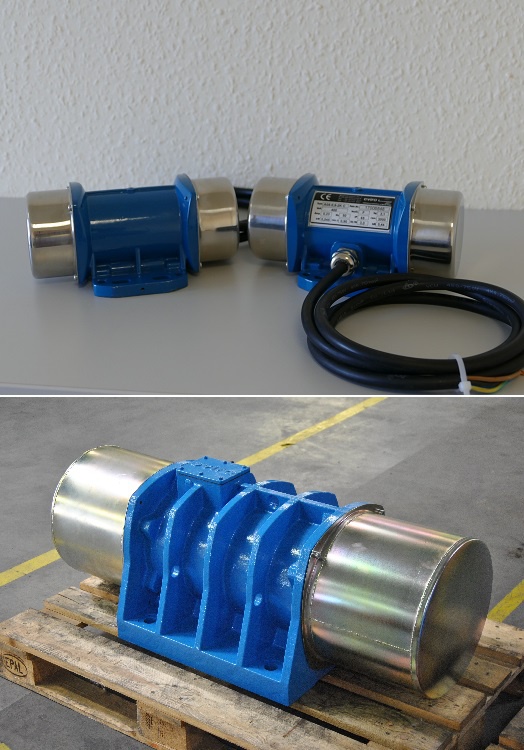 The second new type, our vibration motor GEX7, is suitable for heavy industry applications. Examples for these applications are found in foundries, transportation systems and screening plants.
These vibration motors are deliverable in four different designs with a centrifugal force up to 110 kN at a speed of 1.000 rpm. The centrifugal forces can be adjusted continuously by adjusting the unbalanced weights on the rotor shaft. The housings of the motors are made of rugged grey cast. That design ensures a long life time of the motor at strong loads. To guarantee that, we are mounting special roller bearings into massive bearing shields made of grey cast.
type
working torque
( kgcm )
centrifugal force
( kN )
max. speed
(min-1 )
rated voltage
( V )
rated frequency
( Hz )
 GEX7-1250-6
1250
67,24
1000
400/690
50
 GEX7-1400-6
1400
77,00
1000
400/690
50
 GEX7-1750-6
1750
97,40
1000
400/690
50
 GEX7-2050-6
2050
110,00
1000
400/690
50
Very seldom we deliver to our customers products "off the shelf". The power and advantage of our company is to deliver customized products.
Don't hesitate to contact us, if you have questions regarding our vibration motors and vibration systems. We would be glad, if we could support you at your business of vibration solutions.
---
New vacuum impregnation system put into operation
At the beginning of the year 2017 a new, modern vacuum impregnation plant was put into operation at eviro Elektromaschinenbau & Metall GmbH Eibenstock. This investment makes it possible to impregnate stators up to a length of 1.10 m and a diameter of 1.10 m (for example, IEC 355 L size) for the first time. So, eviro is enabled to meet the constantly growing demands of its customers. In addition to the expansion of existing impregnation capacities in the company, the PLC controlled equipment with processing pressures of <20mbar supports to improve the process parameters. Solvent-free, REACH-compliant impregnation resins are used which ensure the high quality of stators produced by eviro, in particular with regard to electrical stress resistance and mechanical stability.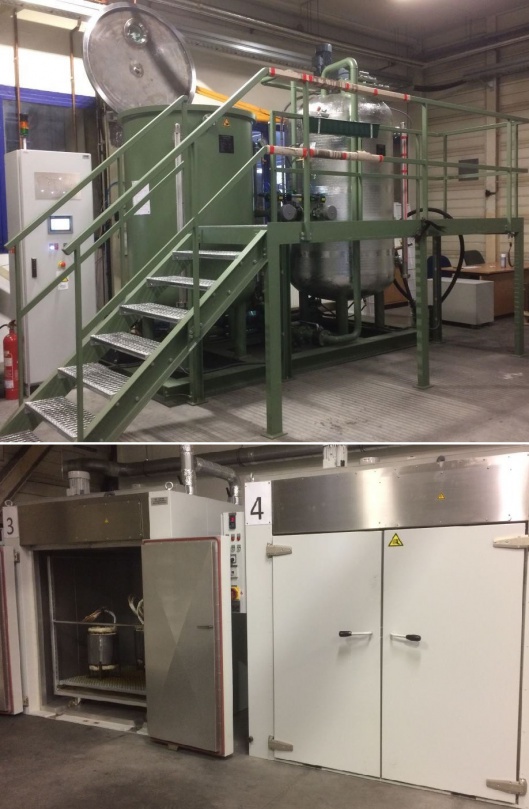 The second component of the investment was two new curing furnaces to ensure optimum curing of the impregnated stators and continuous processes.
The new plant technology is also used for the production of stators for the eviro vibrating motors.